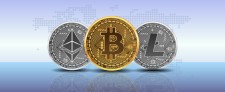 News
-
updated: Jul 18, 2018
Custom software development company Perfectial will start accepting Bitcoin, Ethereum, and Litecoin as a payment option.
Custom software development company, Perfectial will start accepting payments from their clients in the form of cryptocurrency. Three main cryptocurrencies: Bitcoin (BTC), Ethereum (ETH), and Litecoin (LTC) will be used as payment options.
For a company that is actively engaged in researching and adopting the latest technology trends, this seems like a natural step. Perfectial's CTO and co-founder, Ivan Kohut is a Forbes Technology Council Contributor writing and expressing his opinions on the future of Crypto. As a part of the company's strategic plan, Ivan Kohut made a crucial decision to invest in Perfectial's Blockchain expertise.
Cryptocurrency is the future of payments and by introducing this modern payment option, we aim to make our services more comfortable and accessible; Our primal goals have always been customer convenience and satisfaction. So we've decided to adopt crypto payment alternative. "We expect this payment method to be a more fitting option for companies that have received funding with cryptoassets as it will allow them to avoid making a conversion," says Ivan Kohut, Perfectial's CTO and co-founder. Cryptocurrencies are borderless money that allow making our services reachable. On top of that, they help to circumvent certain limitations that conventional payment systems like PayPal have.
About Perfectial
Perfectial is a custom software development company committed to excellence in developing innovative applications for a range of businesses in Europe and the U.S. Perfectial's competence in working with modern platforms and frameworks is recognized and highly valued by our customers and partners.
Perfectial houses over 200 professionals, that includes project managers, solutions architects, .Net, Java, Ruby on Rails, Python and Node.js developers, UI/UX design, and Quality Assurance teams. We offer full-cycle of outsourcing software development: from initial identification of business requirements to system testing, deployment, and maintenance.
Share: